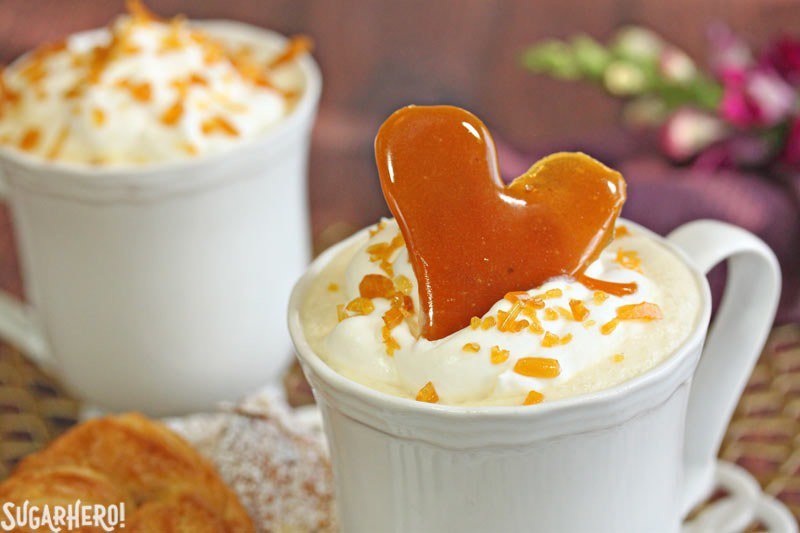 Winter is fast approaching, and who doesn't love a delicious cup of Hot Chocolate to warm their cockles after spending a period of time in the freezing cold weather. I certainly do! There's something so much more satisfying about a hot chocolate when you're cold, than a cup of tea or coffee. It somehow feels a little more luxurious, so it's a real treat when we drink it. Especially when its topped with whipped cream and mini marshmallows - ugh, my mouth is watering. However, it's all well and good using the bog-standard powdered stuff, but I promise, put a little bit more effort in this winter with your hot chocolate making skills and you will not regret it.
Spiked Nutella Hot Chocolate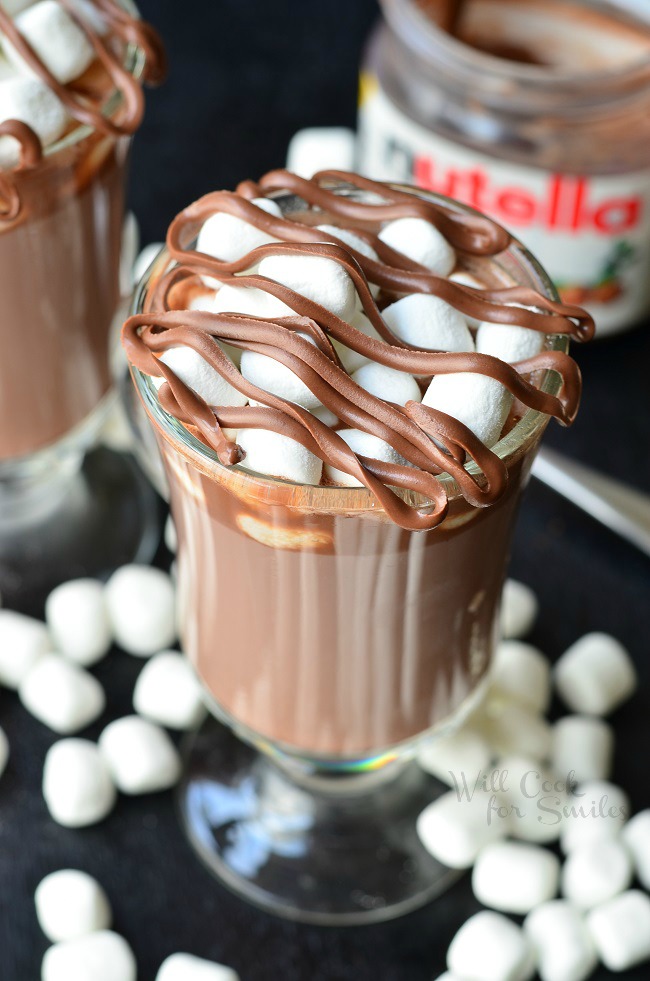 Come on, you know me by now. As if I would have an entire blog post dedicated to chocolate without mentioning Nutella at least once. This hot chocolate is definitely not one for the little ones, and best enjoyed after a long hard day at work - because there's a little tipple in it. Source: Will Cook For Smiles
Peanut Butter Hot Chocolate Float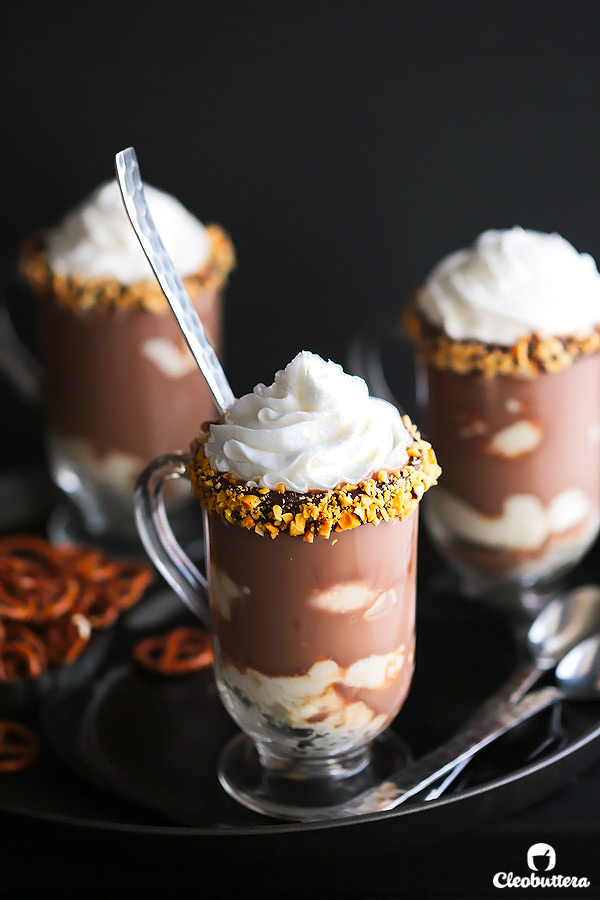 I'm not actually the biggest peanut butter fan, to be honest (yes I've tried it recently and no, I still don't particularly enjoy it) so, this hot chocolate wouldn't exactly be my first choice. However, I know many many many people who are huge peanut butter fiends, and I'm damn sure if I plopped a Reese's peanut butter cup on top of one of these babies, they'd be frothing at the mouth. Source: Cleo Buttera
Slow Cooker Snowflake White Hot Chocolate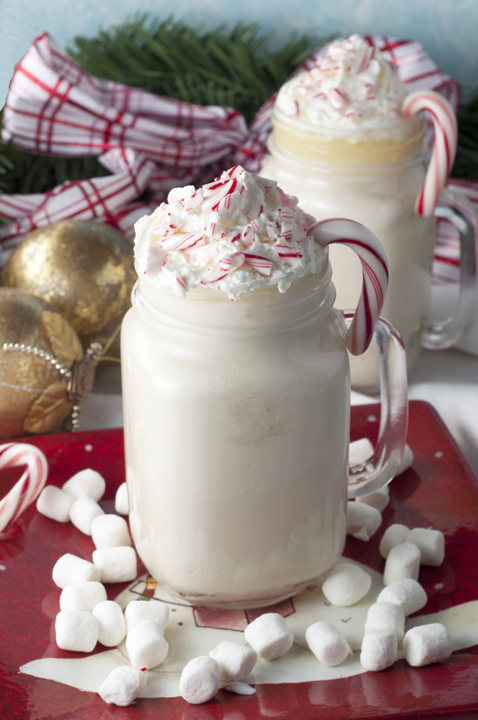 Ever heard of a slow cooked hot chocolate? Me neither. But, I want one. Fair enough, I wouldn't be too thrilled about having to wait over 2 hours for it to be ready, but I reckon I'd thank myself after the first swig. If you were planning on making this particular hot chocolate, you could plan it so you know it will definitely be ready for when you return home and need warming up! Source: Wishes and Dishes.
Coconut Milk Hot Chocolate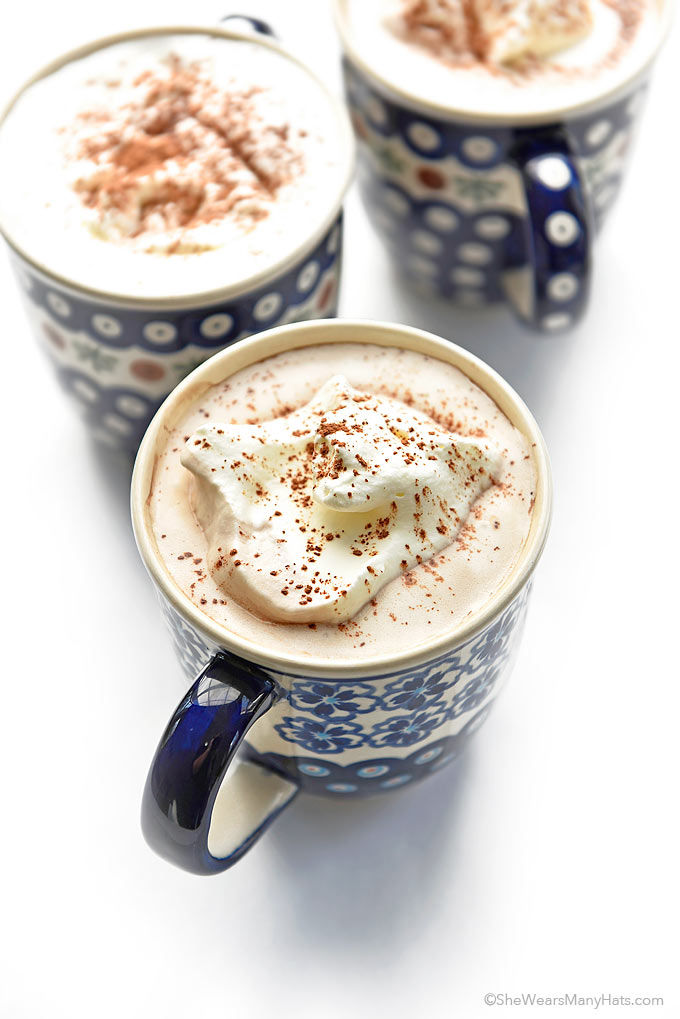 If you don't fancy something too heavy, or you're watching your figure, this recipe will probably be the best one to go for. The coconut milk is unsweetened and you add the sugar as you like it - obviously, if you add too much, you're going to counteract the 'low calorie' aspect of this recipe. Source - She Wears Many Hats
Strawberry Hot Chocolate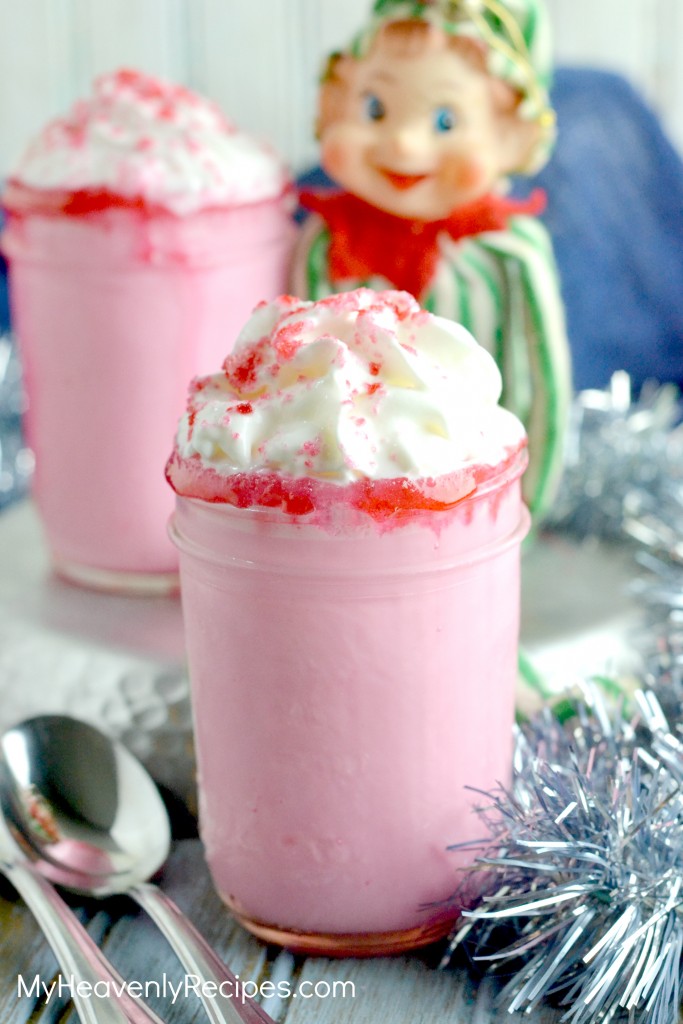 I know what you are thinking... Strawberry Hot Chocolate!? Well, trust me, don't knock it until you have tried it. It's deliciously sweet, full of chocolate and (technically) one of your five a day. So, really, it's pretty good for you - promise! Source: My Heavenly Recipes
Hot Chocolate with Cinnamon and Orange Liqueur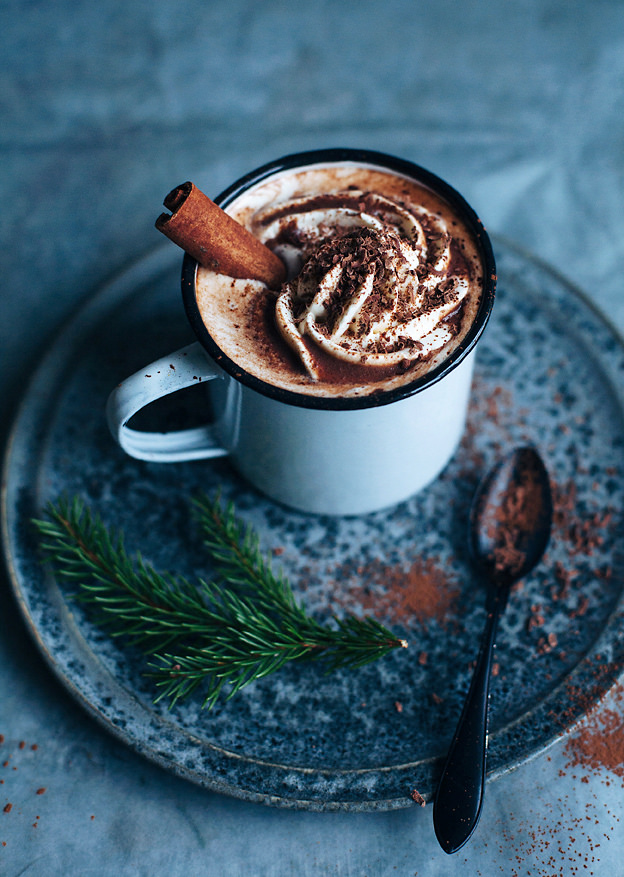 I'd definitely class this as one of the more luxurious hot chocolates on the list. If you're a fan of the good old chocolate and orange combination, then you'll definitely like this. There's a couple of table spoons of orange liqueur in this recipe, but, of course, you could substitute that for orange chocolate. Source: Call Me Cupcake
Gingerbread Hot Chocolate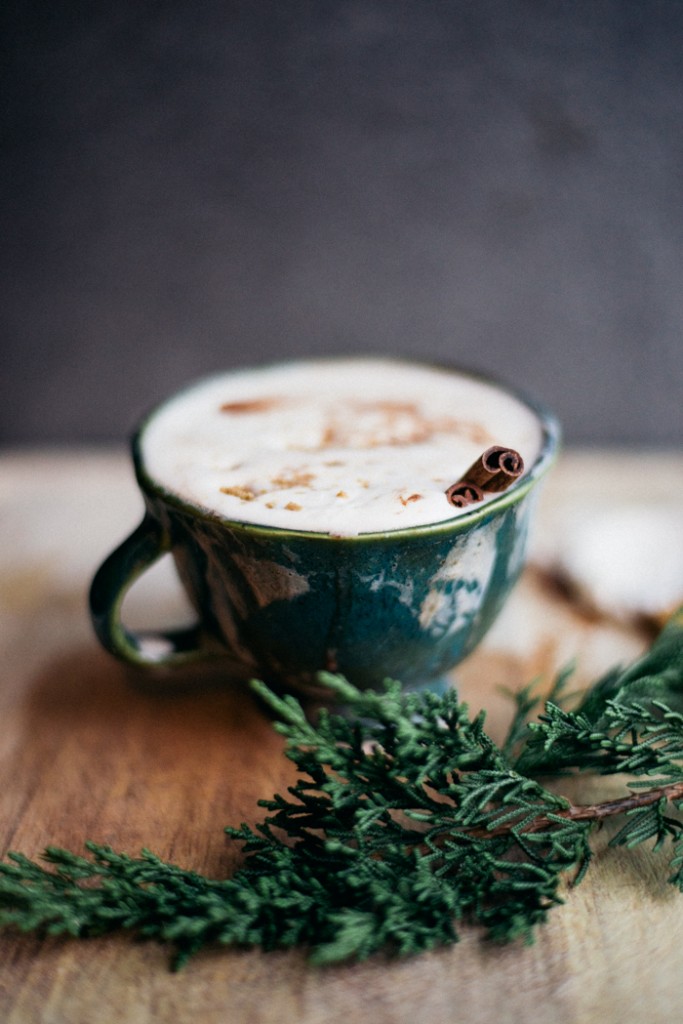 Why trek all the way to Starbucks when you can make your own Gingerbread Hot Chocolate at home with this heavenly recipe. With a delectable blend of winter spices, this recipe even shows you how to make your own delicious gingerbread spice! Source: Wie Gands
S'mores Hot Chocolate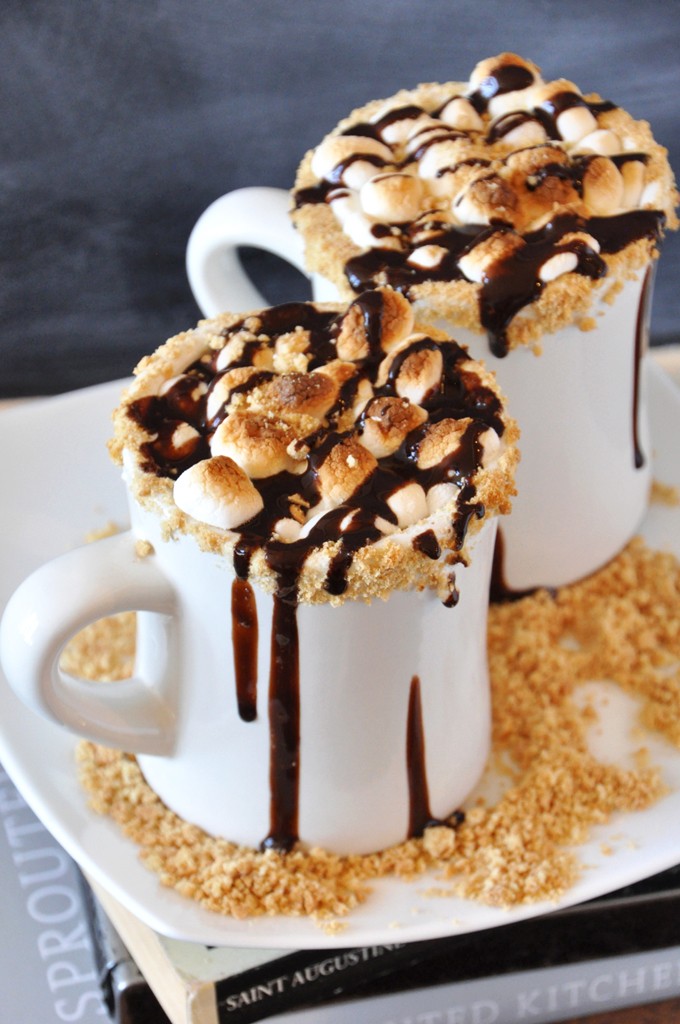 If you're a big fan of s'mores, you're really going to love this recipe Just imagine sitting by the fire with a cup of this luxurious hot chocolate! The toasted marshmallows are really what makes this so special. Of course, if you wanted to make this recipe your own, you could add a splash of baileys! Source: Minimalist Baker
French Hot Chocolate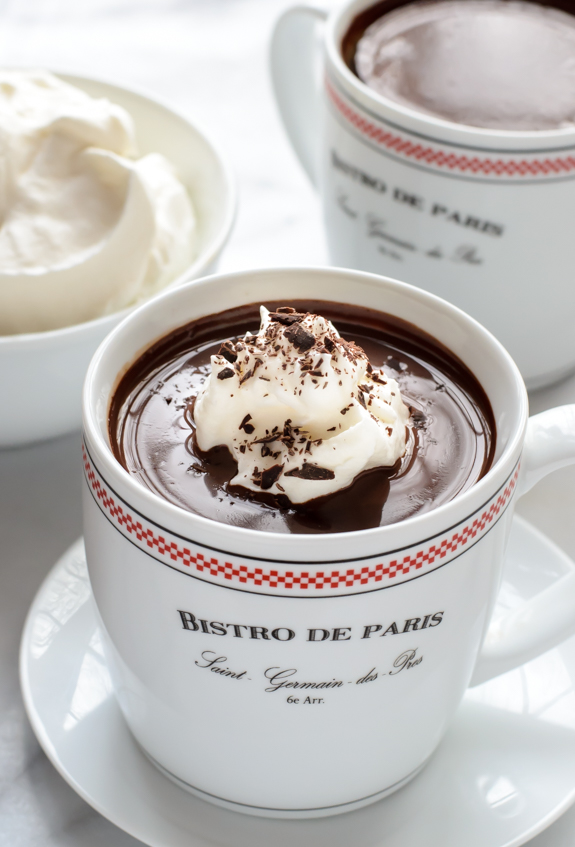 If you're not a big lover of rich, heavy flavours then I would not recommend this hot chocolate to you. It's full of heavy cream, whole milk, coffee and dark chocolate - not to mention the dollop of whipped cream on top. It's safe to say your chocolate cravings will be curbed after just one cup! Source: Well Plated