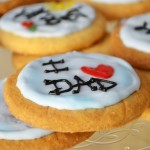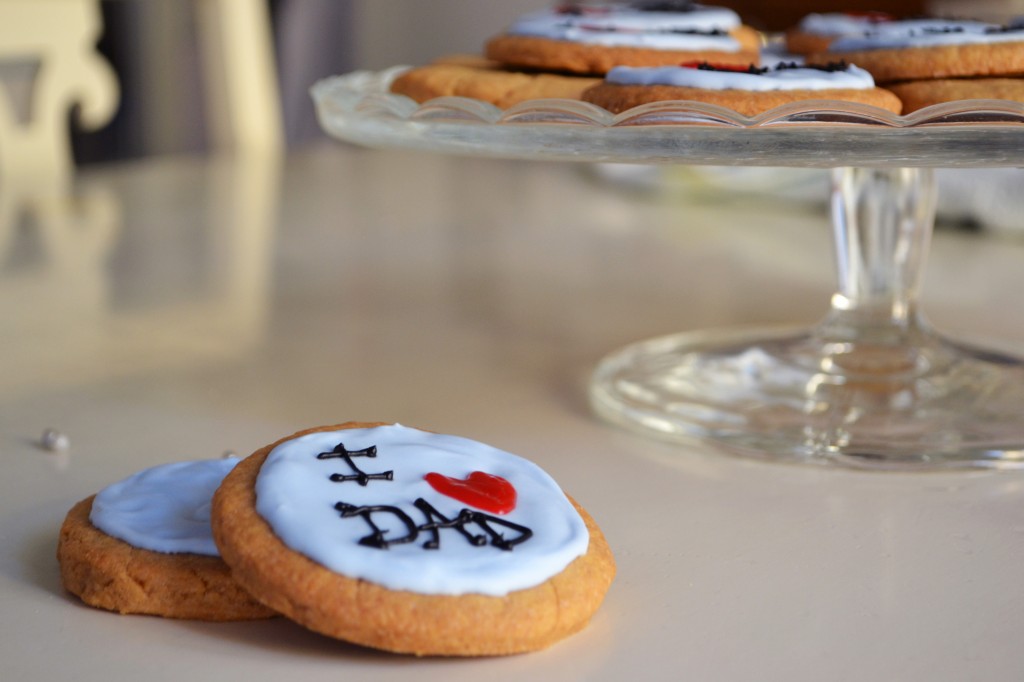 Everybody loves surprises. Dads too. Whether he is sweet, strict or just an old grumpy man, your dad will never say no to a handmade personalised gift! Crisp and crumbly these heart - melting vanilla cookies will definitively make his day!
On Father's Day why not show your love to your favourite parent? If you have an hour spare, take a look at this recipe. By combining vanilla and royal icing, you can make 20 flagrant, buttery biscuits that are going to hit the spot washed down with a cup of tea or coffee.
To make these vanilla biscuits, you might need a star cookie cutter, royal icing, light blue liquid food colouring, rubber spatula, small bowls, disposable paper bags, cling-film to cover the icing and coloured writing icing.
Ingredients for Father's Day Cookies:
100g unsalted butter, softened 120g cane sugar 250g plain flour 1 medium egg 1/3 tsp bicarbonate of soda
To decorate:
1 egg white 200g icing sugar Lemon juice Milk, as necessary Light blue food colouring Coloured writing icing. Disposable piping bag
Method
Preheat the oven to 180° C / gas mark 4. Line two baking trays with baking parchment.
Using an electric mixer with paddle attachment, cream together the butter and sugar in a large bowl, until pale and fluffy. Beat in the egg until well combined. Meanwhile, split open the vanilla pod and stir in the vanilla seeds. Sift in the flour and bicarbonate of soda and mix on a low speed until a dough forms.
Take the dough out of the bowl and roll in your hands to make a smooth and elastic ball. On a lightly floured surface, use a rolling pin to flatten the dough up to 0.5 cm thick. Using Yolli circle cookie cutter, stamp out biscuits from the dough and arrange on baking trays. Repeat with the remaining dough.
Bake for 10-15 minutes until golden brown on the edges. Leave to cool on a wire rack.
For the royal icing, place the white egg in the bowl of an electric mixer, add 100g icing sugar and about a teaspoon of lemon juice, then start mixing on a low speed. Add in the remaining 100g icing sugar and keep mixing until well combined. Check the consistency. If it's too runny, add more icing sugar. If it's too firm, add a few drop of milk. It should get a soft-peak consistency.
With a rubber spatula, spoon the mixture in a small bowl and then add 2 drops of light blue food colour. Spoon the mixture into a piping bag and snip a small tip off the bag.
Pipe the outlines of half of the biscuits, then fill the centres of the circles. Repeat with the remaining biscuits. Allow to dry.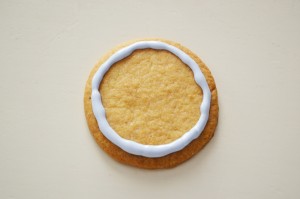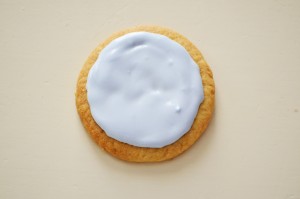 Once firm, using the coloured writing icing, write on the biscuits "I Love Dad",  "Happy Father's Day" or "You Are The Best!" in capital letters and allow to dry.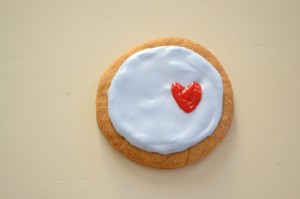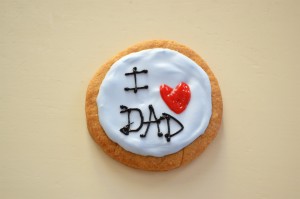 Well done. Now, Enjoy!