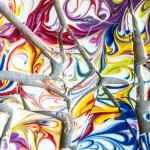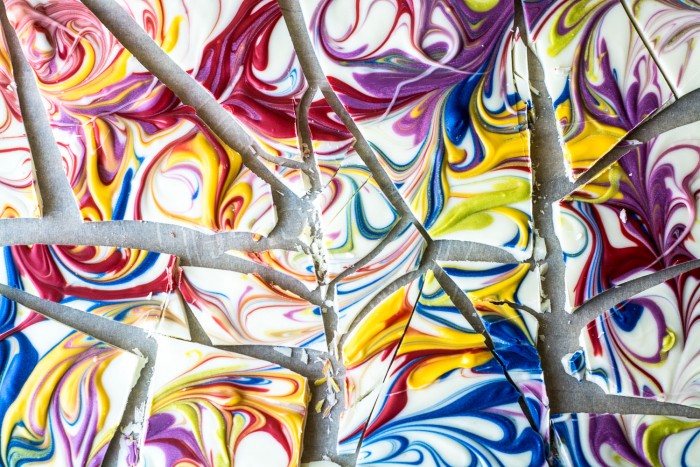 Chocolate bark, if you're not too sure, is a sheet of chocolate that tends to be covered with nuts, sweeties, dried fruit or any other topping that you wish to sprinkle on. It's so obvious to see why this chocolate-ey treat has become so popular recently; and that is because it is quite possibly the easiest sweet treat to make. There is no specific way that chocolate bark should be presented, so you can just throw it together yourself however you like. It can be made with any type of chocolate - a lot of the barks you see lately have a swirly design that is created through
candy melts
. To get you started on this rustic treat, check out the super simple recipes we have put together for you.
Rose, Strawberry & Pistachio White Chocolate Bark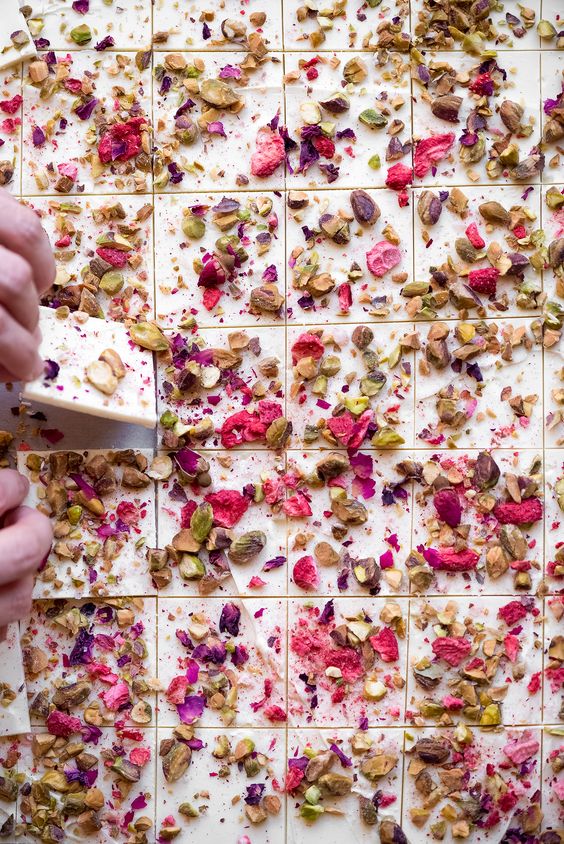 Not only will this bark taste incredible, but it also looks beautiful. It is the perfect treat for a large number of people which makes it absolutely ideal for wedding favours or stocking fillers at Christmas. Just sprinkle on a generous amount of rose petals, pistachios, strawberries and pink sea salt to get your desired look. Once the chocolate has completely set, it's ready to cut into pieces. 
Source: Now-Forager
Cookie Monster Bark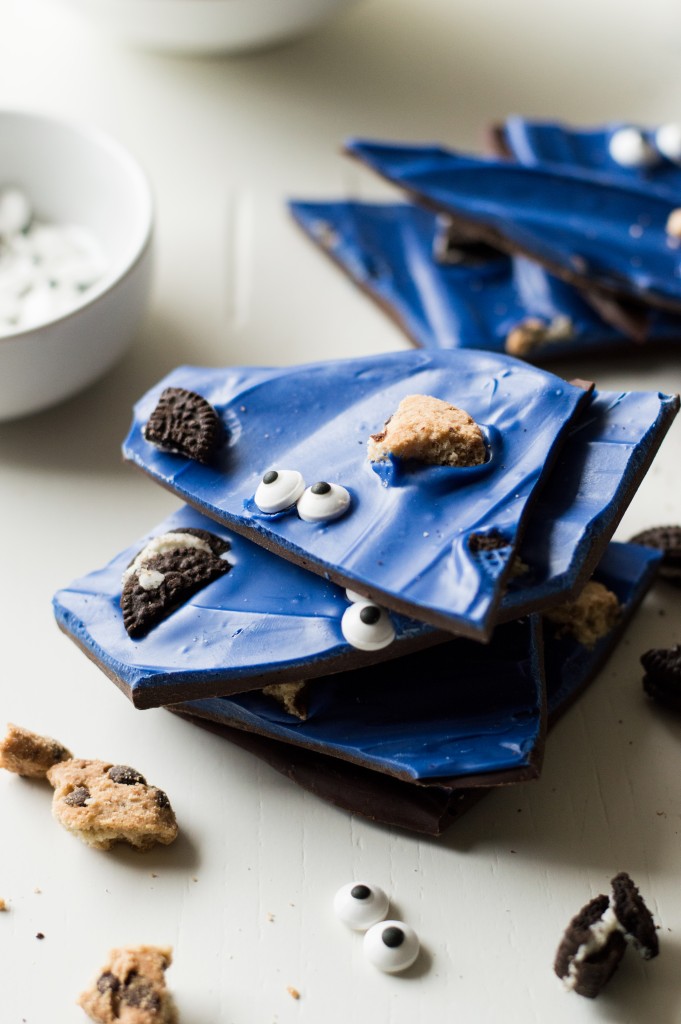 This is a great chocolate bark recipe to get the little ones involved with. I mean, who doesn't love the Cookie Monster? The recipe uses both chocolate and blue candy melts - and of course the candy eyes and chocolate chip cookies! There is also a mini video-tutorial to go along with this recipe.
Source:

Hou

se of Yumm
Rolo Pretzel Bark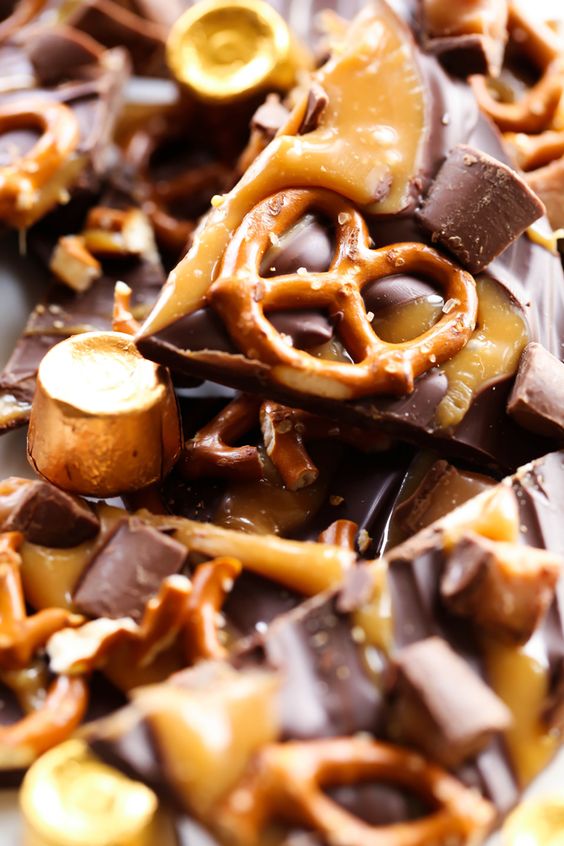 If you're a fan of salted caramel, rejoice, as this chocolate bark recipe is a God send for you. It provides a delicious blend of salty & sweet flavours, along with a variety of different textures. You just need to chop up your Rolo's and sprinkle on your pretzels and then pop it in the freezer. Delish! 
Source: Chef in Training
Sprinkle & Swirl Bark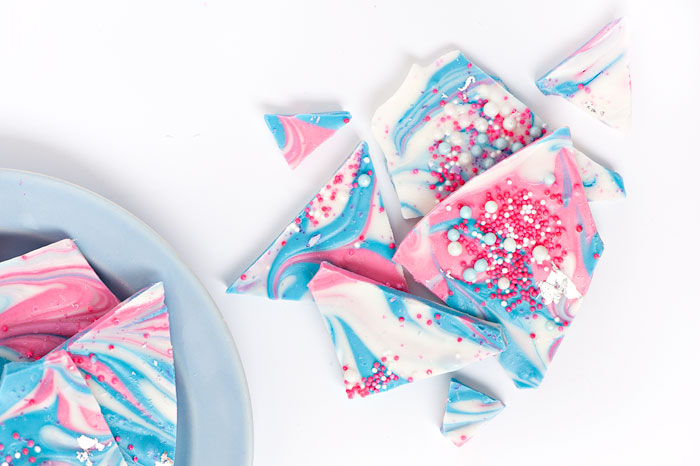 Our favourite thing about this chocolate bark recipe is that you can go a little bit crazy with the decoration. This recipe uses white, pink & blue candy melts, but you can choose whatever colours you like. Just pipe little dollops of candy melts on to a baking sheet and then, using a lollipop stick, make swirling motions all over the pan until you get a lovely, swirly-twirly pattern! Whilst the chocolate is still melted, add any sprinkles. 
Source: Sprinkles for Breakfast
Matcha White Chocolate Bark with Coconut & Raspberries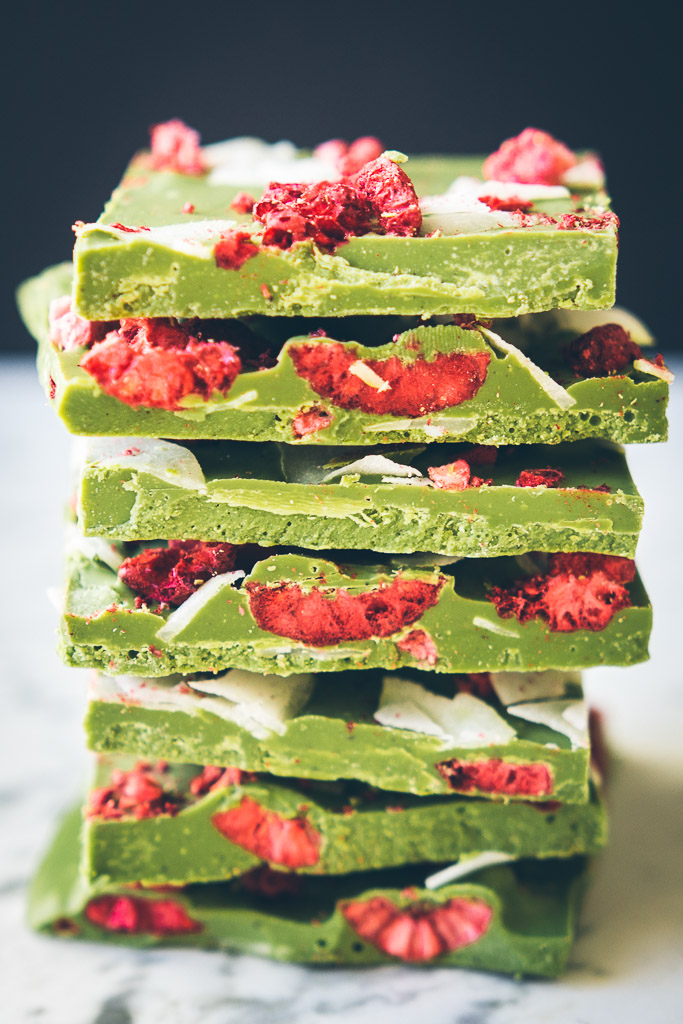 "What is Matcha?" We hear you cry. Matcha is a stone-grounded powdered green tea, that has 137 times more antioxidants than regular green tea! So, it's pretty good for you let's put it that way. We haven't tried it, but we've heard that green tea & white chocolate combined is a taste from the heavens. Pop on a fair few raspberries for sweetness and shaven coconut for added crunch. 
Source: Millys Kitchen
Nutella Rocky Road Bark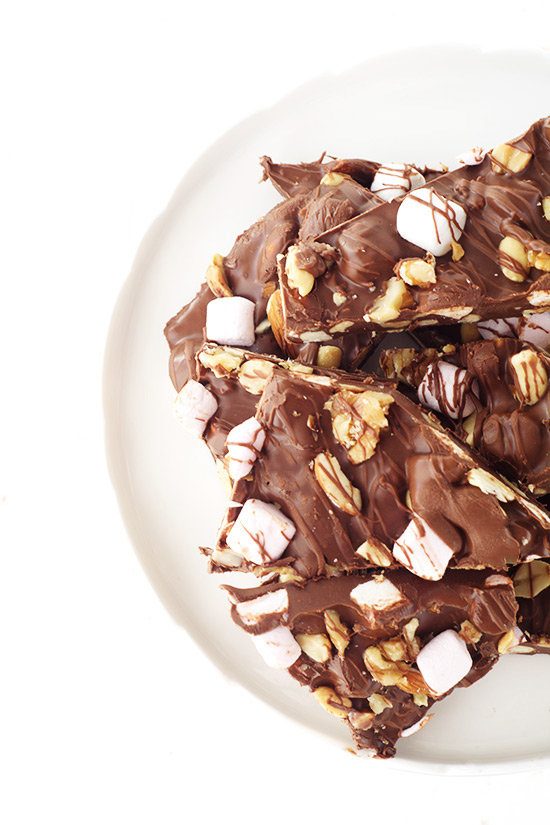 Nutella fans, this one is for you! WARNING - this recipe is unbelievably moreish. The dark chocolate and Nutella is blended together, making the chocolate incredibly creamy with a hint of hazelnut. There is a mix of roast nuts included in the bark, as well as extra nuts and marshmallows sprinkled on top. A little tip: If you like sweet & salty flavours, add salted nuts.
Source: Sweetest Menu
Superfood Chocolate Quinoa Bark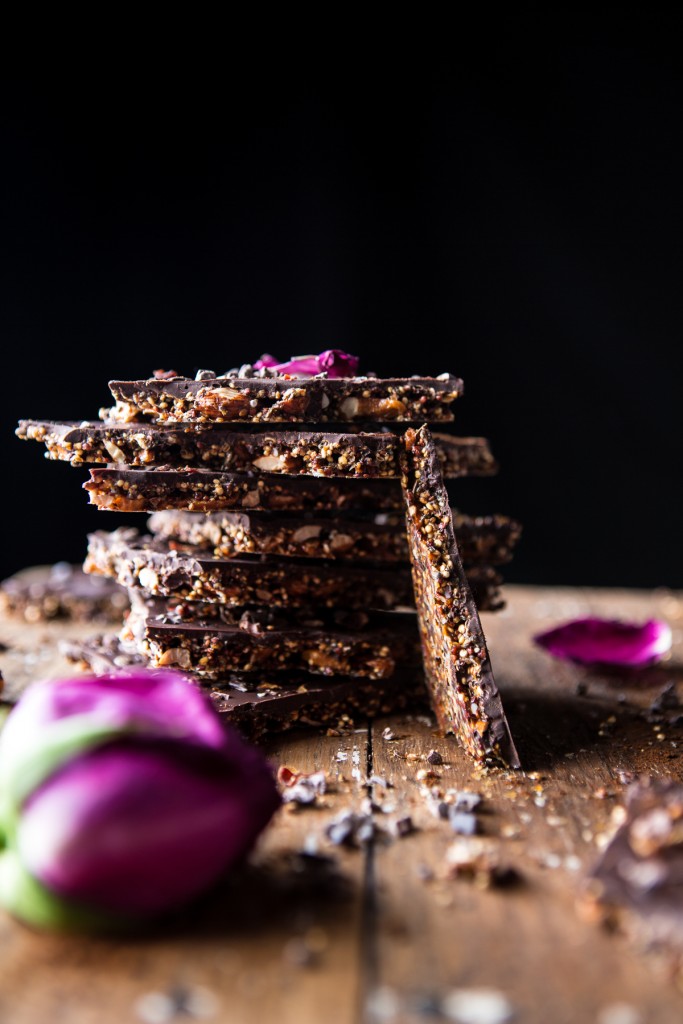 What about those of you who are trying to stick to a healthy diet? Don't think you can escape the deliciousness of chocolate bark! This recipe is packed full of nuts, raw seeds and quinoa. Dark chocolate is used instead of the usual milk chocolate, also! It's the perfect snack to fight those chocolate cravings and keep you from dipping into the biscuit tin. 
Source: Half Baked Harvest
Strawberry Cake Batter Bark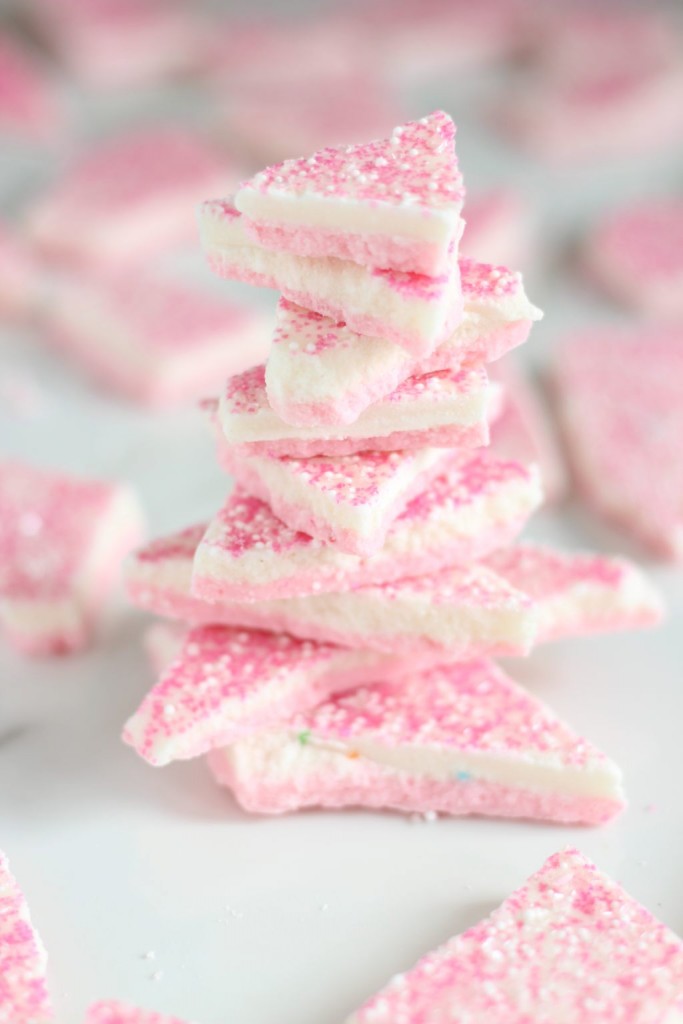 This white chocolate bark has a not-so secret ingredient - funfetti cake mix and strawberry cake mix. Giving it a real strawberry & cream flavour. All you have to do is melt a large chunk of white chocolate and then divide it in half. Mix funfetti cake mix with one half, and strawberry cake mix into the other half, layer them and just decorate with sprinkles! DONE! 
Source: The Gold Lining Girl
Chocolate Peanut Butter Cup Bark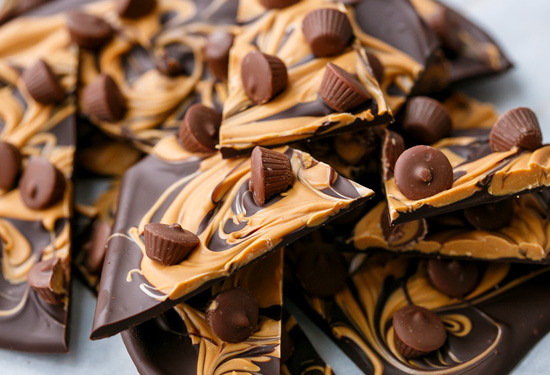 If you saw our
last blog post
, you'll be fully aware of how much we love peanut butter. To be honest, we don't know anyone who doesn't love peanut butter so this recipe is perfect for any occasion. It doesn't need to be neat or tidy, in fact we think it looks ten times better when it looks as though it's been smashed with a hammer. 
Source: Love and Olive Oil
Mint Chocolate Bark
Mint chocolate is another flavour combination that us humans can't seem to get enough of. This recipe really goes to town with the minty theme, by colouring the mint chocolate green! It's super pretty and delicious. It also keeps for weeks in the fridge so you don't have to eat it all at once - even though you want to! 
Source: Brown Eyed Baker
We have
candy melts
and
sprinkles
available to help you get started. Hopefully, some of the above recipes have given you some inspiration for your own chocolate bark.